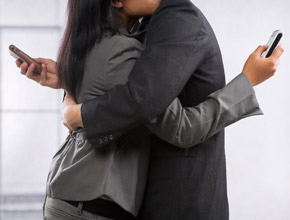 You've finally found a babysitter to stay with the kids, so you can enjoy a night out with your boo. But during the car ride to the restaurant, you are checking your Facebook status updates instead of talking to your husband in the car. At the restaurant, they ask you to wait 15 minutes (despite your reservation) and your husband starts checking work emails while you both sit and wait in silence.

Has this ever happened to you?

Unfortunately, it's becoming a reality for far too many couples. Our love for technology is interfering with our love for each other. Crazy, right?
10 Ways "Phubbing" is Hurting Your Family: Phubbing is the latest phenomenon affecting our families. Here are ten ways it could be hurting your spouse and kids.